Find your business area...
What you get..?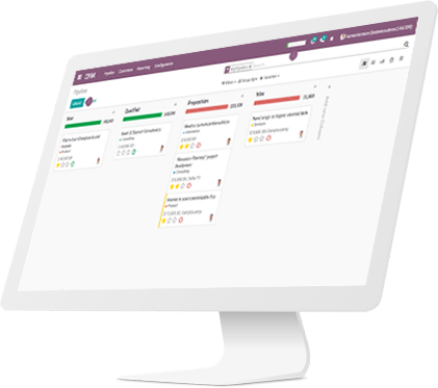 Delivery & Warehouse management
Real-time feedback and tracking
CRM and collaboration with clients
Why DigiTizer..?
Our industry solutions are based on Odoo - the open source software used by more than 5 million people worldwide
It is adapted to your industry:
- Food Manufacturing
- Food Trade
- Sales & E-commerce
It is fully integrated - the data from one module are available in all other modules - no complicated interfaces and connectors are needed
It has an integrated website, blog and e-commerce modules
Cloud-based - you can access the system from any computer with Internet connection
Hosted in Europe - your data does not leave the EU
Fixed monthly subscription fee with no hidden costs
Daily database backup - the backup is encrypted and copied to a second datacenter in a different country
Get on board!

Your demo system will be available in an hour.
Give it a try!

You will have a fully set-up production system in 24 hours.
See what others say about us
It's the first time that we have a system which is able to print all papers we need! In addition, it was implemented in a couple of weeks.

Alex, Warehouse Manager, Pearl Organics

At Furisto, we are building a solution for food ordering and delivery for toddlers and kids. Our customers are both individual families who on a daily basis want a well-balanced, freshly prepared meal for their children, or kindergartens and similar institutions who need to provide meals to large groups of children every day. From our early days we partnered with Digitizer to build a digital solution for our business. Using Digitizer, we were able to have a solution up and running in just a few weeks, which perfectly matched our expectations, is tightly integrated into daily tasks , and offers a great user experience, which is something our clients and employees appreciate.
Goran Dosev, Partner, Furisto Ltd

Previous
Next